Struggling with your finances?
If so, chances are that you don't like finances or you don't like dealing with them. Why do I say that? 
Because if you loved updating your finances,  you'd be doing it every day. 
It's also very likely that you don't have a system in place that is easy to update, takes only 5 minutes of your day (an hour in a month) and shows you EXACTLY what you own, what you owe, what your budget is, how much tax you need to pay, how long you and your family have before you run out money, and if you are improving your net worth or sliding back.
A system that is not relying on an app or an online service (paid or unpaid). The reason why I'm not too fond of online services is because 1) they are rather limited and 2) would you really want to use a app that has access to your funds or financial information if it's not your bank?
Then why don't you use the app of your bank?
I may be mistaken but the bank I have (HSBC) makes it very hard for me to keep track of my finances, my credit card expenditure and doesn't allow me to create lists and graphs the way I want to see things.
Hence the reason why I bought the domain name https://i-am-sick-and-tired-of-my-bank.com
And that's why I am here to help you set up your own private money management system that WORKS!
Are you also avoiding looking at your own finances?
I remember that at the time when I was learning math in school, I liked it and my teachers were great but I wasn't good at it. And ever since I left school, I struggled with my finances. I thought it was because I just wasn't good at math. Usually if you aren't good at something, you're not going to say "Yay, I suck at this. Let's do it some more." No, it doesn't work that way. We are lazy by nature and tend to ignore that which we suck at and focus on that which we're good at. And I guess this is how it should be. But certain BASIC THINGS, should have been taught in school so that we would at least know how to handle our own finances once we left school, wouldn't you agree?
Sadly it's still not the case in our society and so many people are struggling with that. In my opinion our education system just doesn't work. It drives people off the cliff instead of sending them up to a high like in a hot-air balloon.
So since I wasn't great at maths, I focused my attention on languages, sound engineering and web development. So then life went on and I became an entrepreneur. I set up my own English learning school in Hong Kong and again I struggled with ... maths i.e. finances.
I really needed to be on top of my finances because I had no peace of mind. I was always unsure how much money I actually had in the bank that was really mine to spend, what bills were coming up, what my budget was, how much money I had in savings for the long term, how much I had in investments, and how much taxes I would have pay at the end of the fiscal year and I definitely had no idea what my net worth was. Can you relate? 
The aha moment
So when I started my own business, I just couldn't afford any accounting consultancy and so I tried to create my own spreadsheets but I didn't have the financial knowledge. Over the years I literally created hundreds of spreadsheets for this very purpose.
It was only when I started reading a book called "Secrets of The Millionaire Mind" by T. Harv Eker that I became aware that the reason I never succeeded at being on top of my finances was not because I was bad at math, it was simply because I WAS AFRAID OF LOOKING AT MY FINANCES, it was too daunting, I didn't understand it, I had a story around money, and ... it was just easier NOT to look at it.
The easy life, it never pays off. 
Pay the price upfront or pay it later
So if you are avoiding looking at your finances then you are most likely just like I was i.e. struggling financially, having huge credit card debts. And on top of that, I didn't even even have a regular income. 
If that's really the case for you, it's time to do something about it because you know that sooner or later, you'll have to pay the price. I like Benjamin Franklin's quote:
"If you think education is expensive, try ignorance."
You see, the thing is: you can either pay the price upfront or pay the price later but paying you will, one way or the other. And if you choose to pay the price later, it's likely going to be devastating, literally. And that's not what I want for you or for anybody. I want people to WIN IN THE GAME OF LIFE on all levels and that includes financially as well.
So what does that mean "to pay the price upfront"?
For our Course this means: 
1. Looking at your finances every single day for at least 15 minutes. This is to establish a "working" habit, a love for dealing with your finances instead of avoiding it.
2. Using the Money Management System that you'll receive by purchasing this Course. It is an easy-to-update spreadsheet that works offline (or online) and gives you peace of mind around your finances. A system that WORKS. See the Course video.
3. Getting coached 1) on updating your MMS so you UNDERSTAND it and get really good at updating it, 2) on awareness and changing your mindset around money and finance, 3) on giving you that push that is needed to make you do what's uncomfortable now so that you can be comfortable in the long run. 
Once you begin to love updating your finances, you'll gradually get on top of it. And that means peace of mind, feeling GOOD, having confidence and experiencing fulfillment in life. 
Therefore I suggest you to think "long-term" and pay the price upfront.
It will save you lots of hardship and money too. 
To your financial freedom, 
Your Teacher,
Mr Davido
Problemen u met uw financiën?
Zo ja, dan is de kans groot dat u niet van geldbeheren houdt of dat u niet graag omgaat met geld. Waarom zeg ik dat? Als u uw financiën graag zou bijwerken, zou u dat elke dag doen. 
Het is ook zeer waarschijnlijk dat u niet beschikt over een systeem dat gemakkelijk bij te werken is, slechts 5 minuten van uw dag in beslag neemt (een uur in een maand) en u EXACT laat zien wat u bezit, wat u verschuldigd bent, wat uw budget is, hoeveel belasting u moet betalen, hoe lang u en uw gezin hebben voordat uw geld op is, en of u uw nettowaarde verbetert of terugschuift.
Een systeem dat niet afhankelijk is van een app of een online dienst (betaald of onbetaald). De reden waarom ik niet zo dol ben op online diensten is omdat 1) ze nogal beperkt zijn en 2) zou je echt een app willen gebruiken die toegang heeft tot je fondsen of financiële informatie als het niet je bank is?
Waarom gebruik je dan niet de app van je bank?
Ik kan me vergissen, maar de bank die ik heb (HSBC) maakt het erg moeilijk voor mij om mijn financiën bij te houden, mijn credit card uitgaven en staat me niet toe om lijsten en grafieken te maken op de manier waarop ik dingen wil zien.
Vandaar de reden waarom ik de domeinnaam https://i-am-sick-and-tired-of-my-bank.com heb gekocht.
En daarom ben ik hier om je te helpen je eigen privé geld management systeem op te zetten dat WERKT!
Ben je ook aan het vermijden om naar je eigen financiën te kijken?
Ik herinner me dat toen ik wiskunde leerde op school, ik het leuk vond en mijn leraren waren geweldig, maar ik was er niet goed in. En sinds ik van school kwam, worstelde ik met mijn financiën. Ik dacht dat het kwam omdat ik gewoon niet goed was in wiskunde. Normaal gesproken als je ergens niet goed in bent, ga je niet zeggen "Jee, ik ben hier slecht in. Laten we dat es maar veel doen." Nee, zo werkt het niet. We zijn van nature lui en hebben de neiging om datgene waar we slecht in zijn te negeren en ons te richten op datgene waar we goed in zijn. En ik denk dat dit is hoe het zou moeten zijn. Maar bepaalde BASISDKENNIS hadden op school moeten krijgen, zodat we tenminste zouden weten hoe we onze eigen financiën moeten beheren zodra we afgestudeerd waren, vind je niet?
Jammer genoeg is dat nog steeds niet het geval in onze maatschappij en veel mensen hebben het daar moeilijk mee. Naar mijn mening werkt ons onderwijssysteem gewoon niet. Het drijft mensen van de afgrond in plaats van ze naar een hoogtepunt te sturen zoals in een raket.
Dus omdat ik niet goed was in wiskunde, richtte ik mijn aandacht op talen, geluidstechniek en webontwikkeling. Het leven ging verder en werd ik een ondernemer. Ik zette mijn eigen Engelse leerschool op in Hong Kong en opnieuw worstelde ik met ... wiskunde, m.a.w. financiën.
Ik moest echt bovenop mijn financiën zitten want ik had geen gemoedsrust. Ik was altijd onzeker over hoeveel geld ik eigenlijk op de bank had staan, welke rekeningen ik kon betalen, wat mijn budget was, hoeveel ik op lange termijn kon sparen, hoeveel ik kon beleggen en hoeveel belastingen ik aan het einde van het boekjaar zou moeten betalen en ik had al helemaal geen idee wat hoeveel ik waard was. 
Kun je je dat voorstellen? 
Het aha-moment
Toen ik mijn eigen bedrijf begon, kon ik me gewoon geen boekhoudkundig adviesbureau veroorloven en dus probeerde ik mijn eigen spreadsheets te maken, maar ik had de financiële kennis niet. In de loop der jaren heb ik letterlijk honderden spreadsheets gemaakt voor dit doel.
Het was pas toen ik begon met het lezen van een boek genaamd "Secrets of The Millionaire Mind" door T. Harv Eker dat ik me ervan bewust werd dat de reden waarom ik er nooit in geslaagd was om bovenop mijn financiën te geraken, niet was omdat ik slecht was in wiskunde, maar omdat ik een AFSCHUW had om zelfs maar naar mijn financiën te kijken, het was te ontmoedigend, ik begreep het niet, ik had een verhaal rond geld, en ... het was gewoon makkelijker om er NIET naar te kijken.
Het makkelijke leven, het loont nooit.
Betaal de prijs vooraf of betaal het later
Dus als je vermijdt om naar je financiën te kijken, dan ben je waarschijnlijk net als ik, namelijk financieel aan het worstelen, met enorme kredietkaartschulden. En daar kwam nog bij dat ik niet eens een regelmatig inkomen had.
Als dat echt het geval is voor jou, dan is het tijd om er iets aan te doen, want je weet dat je vroeg of laat de prijs zult moeten betalen. Ik hou van Benjamin Franklin's citaat:
"Als je denkt dat onderwijs duur is, probeer onwetendheid."
Zie je, het zit zo: je kunt de prijs vooraf betalen of later betalen, maar betalen zul je, hoe dan ook. En als je ervoor kiest om de prijs later te betalen, zal het waarschijnlijk VERWOESTEND zijn, letterlijk. En dat is niet wat ik wil voor jou of voor wie dan ook. Ik wil dat mensen winnen in het levensspel op alle niveaus en dat is ook op financieel vlak.
Dus wat betekent dat "vooraf de prijs betalen"?
Voor onze Cursus betekent dit: 
1. Elke dag minstens 15 minuten naar je financiën kijken. Dit is om een "werkende" gewoonte te creëren, een liefde voor het omgaan met uw financiën in plaats van het te vermijden.
2. Het gebruiken van het Geld Management Systeem dat u ontvangt bij aankoop van deze Cursus. Het is een gemakkelijk bij te werken spreadsheet die offline (of online) werkt en u gemoedsrust geeft rond uw financiën. Een systeem dat WERKT. Bekijk de Cursus video.
3. Gecoacht worden 1) op het bijwerken van je MMS, zodat je het ONDERSCHRIJFT en er echt goed in wordt, 2) op bewustwording en het veranderen van je mindset rond geld en financiën, 3) op het geven van dat zetje dat nodig is om je te laten doen wat nu ongemakkelijk is, zodat je op de lange termijn comfortabel kunt zijn.
Als je eenmaal begint te houden van het bijwerken van je financiën, zul je er geleidelijk aan bovenop komen. En dat betekent gemoedsrust, je GOED voelen, vertrouwen hebben en vervulling in het leven ervaren.
Daarom stel ik u voor om op "lange termijn" te denken en de prijs vooraf te betalen.
Het zal je veel ellende en geld besparen. 
Op uw financiële vrijheid, 
Uw leraar,
Mr Davido
In short ...
Money management is what we all should have learnt in school but most of us haven't. In this Course you'll receive a professional spreadsheet* and my coaching to help you establish great money management habits, based on the book Secrets of the Millionaire Mind. *Mac version only
Total Rescheduling quotas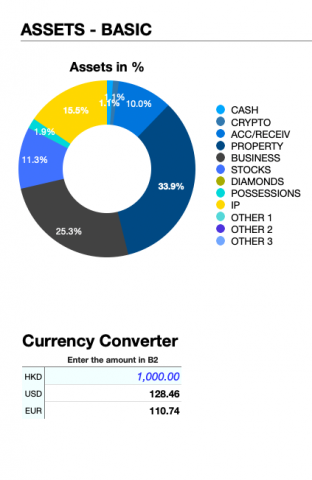 Important before you book
The book we use:
Secrets Of The Millionaire Mind