Is it possible to learn English effortlessly?
I would say YES, ABSOLUTELY!
Before I explain how this works and how I teach, which is dramatically different from any other English Course I have ever come across during my career as an English teacher, I'd like to take you on a little journey that explains WHY :
So follow me for a few minutes:
Somewhere in 1974, 6 months before I was born, I developed my hearing. I was in the womb of my Mum. I could hear sounds and especially when my Mum was talking because her voice vibrated throughout her and my tiny body. So after these 6 months of hearing I was born, obviously. During the first year I couldn't say a word until one day I uttered 1 word. Hallelujah! (No, that wasn't the word. That was probably what Mum and Dad said.) It was a very close repetition of something I had been hearing so many times for such a long time. Another year passed and in the meantime I had learnt to utter more words, probably about 50 words. Isn't that fantastic? These words were not related to introducing myself for a job interview. They were words that I could relate to very much. Words about what I wanted at that time e.g. food, drink, play, etc. You know the kind. These words were REPEATED LOUDLY by Mum and Dad and even my brother who was already speaking a lot more. I heard them so many times and so I continued to learn from Mum and Dad, my brother, my teachers and peers in kindergarten said, WITHOUT taking exams , WITHOUT studying my native language. And if you are thinking that you should study that language right now, think again. That's not necessary to become a fluent English speaker.
So what's the key, Davido?
We all learnt how to speak our native language fluently by listening and repeating what we heard that was RELEVANT and USEFUL to our situation. And that's the key: listening.
Question:
"If you heard a 5-year-old child speaking in their native language, would you say that they speak their language fluently?"
Answer: I would say so.
Question:
"And do you think they have studied their language and taken many tests to get to this level?"
Answer: I would say ABSOLUTELY NOT. 
So in my opinion, the reason why we all speak fluently is because we all HEARD it so many times for a long time. Mind you, we didn't hear sales conversations or lectures by professors or business pitches to investors. No, we heard what we needed to hear at that age because it was RELEVANT and USEFUL to our situation. 
This is what I want for you
Relevant and useful English phrases and sentences that YOU know you have to use on a daily basis. Whether that's for sales conversations, pitching your business ideas, introducing yourself in a job interview, talking to the teacher, giving a presentation in front of the blackboard in school or talking about yourself in an immigration interview, it doesn't matter. This is where I can help you and what I do best.
So what's your method?
I ask you questions about what's most important to you in your life that you want and need to be able to talk about in English fluently. From there, we compose sentences together that you finally approve. Then after each Session, I create a professionally recorded voice recording for you i.e. a studio-quality English ListeningExercise™
How you learn English faster than anyone else
Your task is put on your headphones and listen to your tailor-made English ListeningExercise™ 10 times a day. That is a GRAND TOTAL of 10 minutes every day. That's right, your LE™ will be only 1 minute long. Why? Because in order for you to be able to speak along with the LE™ it has to be very short.
Here's HOW you listen: Put on your headphones (required) and start the ListeningExercise™. It repeats by itself until you click/tap "stop". And when you are listening, go walking, go to the gym, do the dishes, take the dog out, travel to work, relax with your eyes closed right before sleeping. If you do any of these situations, it will come naturally and you won't have to study English. I'm not saying that you shouldn't study. If you want to study, go study. But it's not necessary for you to speak fluent English.
Not convinced?
Check out this link here to hear a sample ListeningExercise™ that I recorded and see if the quality I provide is high enough for you. You may want to know that I'm a sound engineer by profession. This is where my sound engineering skills come into play. Life Is So Amazing (L.I.S.A.) 
FR
Est-il possible d'apprendre l'anglais sans effort ?
Je dirais OUI, ABSOLUMENT !
Avant de vous expliquer comment cela fonctionne et comment j'enseigne, ce qui est radicalement différent de tous les autres cours d'anglais que j'ai rencontrés au cours de ma carrière de professeur d'anglais, j'aimerais vous emmener dans un petit voyage qui explique POURQUOI :
Alors suivez-moi pendant quelques minutes :
Quelque part en 1974, 6 mois avant ma naissance, j'ai développé mon audition. J'étais dans le ventre de ma mère. J'entendais les sons et surtout quand ma mère parlait, car sa voix vibrait dans tout son corps et dans le mien. Donc, après ces 6 mois d'audition, je suis née, évidemment. Pendant la première année, je ne pouvais pas dire un mot, jusqu'au jour où  j'ai prononcé un mot. (Non, ce n'était pas le mot, c'était probablement ce que papa et maman ont dit.) C'était une répétition très proche de quelque chose que j'avais entendu tant de fois pendant si longtemps. Une autre année a passé et entre-temps j'ai appris à prononcer plus de mots, probablement environ 50 mots. N'est-ce pas fantastique ? Ces mots n'étaient pas liés au fait de me présenter pour un entretien d'embauche. C'étaient des mots auxquels je pouvais m'identifier.  Des mots sur ce que je voulais à ce moment-là, par exemple manger, boire, jouer, etc. Vous savez le genre. Ces mots ont été répétés À HAUTE VOIX par maman et papa et même par mon frère qui parlait déjà beaucoup plus. Je les ai entendus tant de fois que j'ai continué à apprendre de maman et papa, de mon frère, de mes professeurs et de mes camarades de maternelle, SANS passer d'examens, SANS étudier ma langue maternelle. Et si vous pensez que vous devez étudier cette langue tout de suite, réfléchissez-y à deux fois. Ce n'est pas nécessaire pour devenir un anglophone courant.
Alors quelle est la clé, Davido ?
Nous avons tous appris à parler couramment notre langue maternelle en écoutant et en répétant ce que nous avons entendu et qui était PERTINENT et UTILE dans notre situation. Et c'est ça la clé : écouter.
Question:
"Si vous entendez un enfant de 5 ans parler dans sa langue maternelle, diriez-vous qu'il parle couramment sa langue ?"
Réponse : Je dirais que oui.
Question:
"Et pensez-vous qu'ils ont étudié leur langue et passé de nombreux tests pour arriver à ce niveau ?"
Réponse : Je dirais ABSOLUMENT PAS. 
Donc, à mon avis, la raison pour laquelle nous parlons tous couramment est que nous l'avons ENTENDU de nombreuses fois pendant longtemps. Attention, we didn't hear nous n'avons pas entendu des conversations de vente, des conférences de professeurs ou des présentations commerciales à des investisseurs. Non, nous avons entendu ce que nous avions besoin d'entendre à cet âge parce que c'était PERTINENT et UTILE pour notre situation.
Voici ce que je veux pour vous
Des expressions et des phrases anglaises pertinentes et utiles que VOUS savez devoir utiliser au quotidien. Que ce soit pour des conversations de vente, pour présenter vos idées commerciales, pour vous présenter lors d'un entretien d'embauche, pour parler au professeur, pour faire une présentation devant le tableau à l'école ou pour parler de vous lors d'un entretien d'immigration, peu importe. C'est là que je peux vous aider et ce que je fais le mieux.
Alors, quelle est votre méthode ?
Je vous pose des questions sur ce qui est le plus important pour vous dans votre vie et dont vous voulez et devez être capable de parler couramment en anglais. À partir de là, nous composons ensemble des phrases que vous approuvez finalement. Puis, après chaque session, je crée un enregistrement vocal professionnel pour vous, c'est-à-dire un exercice d'écoute de l'anglais de qualité studio (ListeningExercise™).
Comment vous apprenez l'anglais plus rapidement que quiconque
Votre tâche consiste à mettre vos écouteurs et à écouter votre English ListeningExercise™ sur mesure 10 fois par jour. Cela représente un GRAND TOTAL de 10 minutes par jour. C'est vrai, votre LE™ ne durera qu'une minute. Pourquoi ? Parce que pour que tu puisses parler en même temps que le LE™, il doit être très court.
Voici comment écouter : Mettez vos écouteurs (obligatoires) et lancez le ListeningExercise™. Il se répète tout seul jusqu'à ce que vous cliquiez/tapiez sur "stop". Et pendant que vous écoutez, allez vous promener, allez à la gym, faites la vaisselle, sortez le chien, allez au travail, détendez-vous les yeux fermés juste avant de dormir. Si vous faites l'une de ces situations, cela viendra naturellement et vous n'aurez pas besoin d'étudier l'anglais. Je ne dis pas que vous ne devez pas étudier. Si vous voulez étudier, allez-y. Mais il n'est pas nécessaire pour vous de parler couramment l'anglais.
Vous n'êtes pas convaincu ?
Consultez ce lien ici pour écouter un échantillon de ListeningExercise™ que j'ai enregistré et voyez si la qualité que je fournis est assez élevée pour vous. Vous voudrez peut-être savoir que je suis ingénieur du son de profession. C'est là que mes compétences en ingénierie du son entrent en jeu. 
Life Is So Amazing (L.I.S.A.) 
NL
Is het mogelijk om Engels te leren zonder moeite?
Ik zou zeggen JA, ABSOLUUT!
Voordat ik uitleg hoe dit werkt en hoe ik les geef, dat dramatisch verschilt van elke andere cursus Engels die ik ooit ben tegengekomen tijdens mijn carrière als leraar Engels, wil ik u graag meenemen op een kleine reis die uitlegt WAAROM :
Dus volg me een paar minuten:
Ergens in 1974, 6 maanden voor mijn geboorte, ontwikkelde ik mijn gehoor. Ik zat in de baarmoeder van mijn moeder. Ik kon geluiden horen en vooral als mijn moeder praatte, omdat haar stem door haar en mijn kleine lichaam vibreerde. Dus na deze 6 maanden van horen werd ik geboren, natuurlijk. Tijdens het eerste jaar kon ik geen woord zeggen tot ik op een dag 1 woord uitsprak. Hallelujah! (Nee, dat was niet het woord. Dat zeiden mama en papa waarschijnlijk.) Het was een zeer nauwe herhaling van iets dat ik al zo vaak en zo lang had gehoord. Er ging weer een jaar voorbij en intussen had ik meer woorden leren uitspreken, waarschijnlijk zo'n 50 woorden. Is dat niet fantastisch? Deze woorden hadden niets te maken met mezelf voorstellen in een sollicitatiegesprek. Het waren woorden die ik heel goed kon begrijpen. Woorden over wat ik op dat moment wilde, bv. eten, drinken, spelen, enz. Je kent het wel. Deze woorden werden LUID HERHAALD door mama en papa en zelfs mijn broer die al veel meer sprak dan ik zelf. Ik hoorde ze zo vaak en zo ging ik door met leren van wat papa en mama, mijn broer, mijn leraren en leeftijdsgenootjes op de kleuterschool zeiden, ZONDER examens af te leggen, ZONDER mijn moedertaal te moeten studeren. En als je nu denkt dat je die taal moet gaan studeren, denk dan nog eens na. Dat is niet nodig om een vloeiend Engels spreker te worden.
Dus wat is de geheim, Davido?
We hebben allemaal geleerd hoe we onze moedertaal vloeiend kunnen spreken door te luisteren en te herhalen wat we hoorden dat RELEVANT en NODIG was voor onze situatie. En dat is de kern: luisteren.
Vraag :
""Als je een kind van 5 jaar in zijn moedertaal hoort praten, zou je dan zeggen dat hij zijn taal vloeiend spreekt?"
Antwoord : Ik zou zeggen van wel.
Vraag :"En denkt u dat zij hun taal moesten instuderen en vele tests hebben afgelegd om tot dit niveau te komen?"
Antwoord : Ik zou zeggen ABSOLUUT NIET. 
Dus volgens mij is de reden waarom wij allemaal vloeiend spreken, omdat wij het allemaal zo vaak en gedurende een lange tijd hebben gehoord. Let wel, we hoorden geen salesgesprekken of uiteenzettingen van professoren of bedrijfspresentaties voor investeerders. Nee, we hoorden wat we moesten horen op die leeftijd omdat het RELEVANT en NODIG was voor onze situatie. 
Dit is wat ik voor u wil
Relevante en bruikbare Engelse zinnen en uitdrukkingen waarvan JIJ weet dat je ze dagelijks moet gebruiken. Of dat nu is voor verkoopgesprekken, het pitchen van uw zakelijke ideeën, jezelf voorstellen in een sollicitatiegesprek, praten met de leraar, een presentatie geven voor het schoolbord op school of praten over jezelf in een immigratie interview, het maakt niet uit.
Dit is waar ik jou kan helpen en waar ik een expert in ben.
Dus hoe geef je les?
Ik stel u vragen over wat voor u het belangrijkste is in uw leven en waarover u vloeiend in het Engels wilt en moet kunnen praten. Van daaruit stellen we samen zinnen op die u uiteindelijk goedkeurt. Na elke sessie maak ik een professioneel opgenomen stemopname voor u, een Engelse luisteroefening van studiokwaliteit (ListeningExercise™).
Hoe u sneller Engels leert dan wie dan ook
Uw taak is om uw koptelefoon op te zetten en 10 keer per dag naar uw op maat gemaakte Engelse ListeningExercise™ te luisteren. Dat is een GROOT TOTAAL van 10 minuten per dag. Dat klopt, uw LE™ zal slechts 1 minuut lang zijn. Waarom? Omdat de LE™ zeer kort moet zijn om u in staat te stellen mee te spreken.
Hier is HOE je luistert: Zet uw koptelefoon op (verplicht) en start de ListeningExercise™. Het herhaalt zich vanzelf totdat u op "stop" klikt/tikt. En terwijl u luistert, gaat u wandelen, gaat u naar de fitness, doet u de afwas, laat u de hond uit, rijdt u naar uw werk, ontspant u zich met uw ogen dicht vlak voordat u gaat slapen. Als je dit in één van deze situaties doet, zal Engels vanzelf komen en hoef je het niet te studeren. Ik zeg niet dat je niet moet studeren. Als je wilt studeren, ga dan studeren. Maar het is niet noodzakelijk voor je om vloeiend Engels te spreken.
Niet overtuigd?
Via deze link kunt u een voorbeeld beluisteren van een ListeningExercise™ die ik heb opgenomen en kijken of de kwaliteit die ik lever hoog genoeg is voor u. Misschien wilt u weten dat ik geluidstechnicus van beroep ben. Dit is waar mijn geluidstechnische vaardigheden in het spel komen.
Life Is So Amazing (L.I.S.A.) 
In short ...
When you have no time to study English but you must learn how to speak English fluently, this Course is for you. We have Q&A Sessions where we analyse what you need and want to say daily. Then I create professional voice recordings that you will listen to every day 10 times.
Total Rescheduling quotas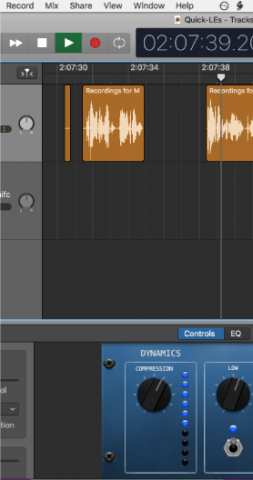 Important before you book